Welcome to Walter - A short history of good taste
12.12.2021
In a notebook, yellowed with age, between hundred-year-old chocolate stains, we see the handwritten note of chocolatier Hugo E. Walter: "Ginger jelly sticks large roller Zitter IV 12". These machine details may, for the uninitiated, be quite incomprehensible. But if you follow their trail all the way back to the Walter chocolate factory in Tempelhof, you will even today still find the numerous unique specialities in the range of this traditional Berlin confectionery. Since 1915, chocolate specialities have been produced here in Tempelhof according to the principle "Connected to tradition - committed to quality" - a product of Berlin craftsmanship that we want to enrich your Christmas. That's why you'll find a bar of handmade chocolate from Confiserie Walter in your Christmas order* from now on.
Berlin craftsmanship
Berlin appreciates honest craftsmanship! In the districts of Kreuzberg, Mitte and Prenzlauer Berg, venerable handicraft is rediscovered day after day and perfected in start-up manufacturing enterprises. Sustainable quality is gaining increasing awareness and generating increasing demand in the city. Because one concept is now becoming more and more dominant: Good workmanship is the most honourable utilisation of a raw material. For over a hundred years, Berlin's Confiserie Walter has also been working according to this credo, because here the chocolate has always been scooped and refined by hand. The basic skills of operating the machines and setting the correct temperature of the chocolate, together with a range of basic recipes, has been passed down and refined here over generations of chocolatiers. After all, what should melt in your mouth should not melt at room temperature! Only when everything is precisely coordinated does the chocolate flow so flawlessly into its mould that it meets the high standards that Confiserie Walter has set itself.
The high-quality raw material for the chocolate is sourced from cultivations in Ecuador and Venezuela. In Tempelhof, it is then processed without the addition of palm oil. That's what Berliners appreciate so much about their chocolate manufactory. And that's why we would like to give you one of these special bars as a present with your Christmas order this year! But Berlin, apart from its insistence on good craftsmanship, is also the city of constant change, of ideas and innovation. Anyone who knows the German capital knows that people here are very keen to experiment and are always on the lookout for the next new experience – which makes a hundred years of tradition almost sound like a challenge for a manufacturer. So how does Confiserie Walter strike a balance between tradition and modernity?
Between tradition and modernity: three examples
Between sketches and bag-making tools, three bars of chocolate lie on our workbench: one bar of fine dark chocolate with a cocoa content of 70 %, from whose flawless surface dark chocolate chips protrude, then some crispy white chocolate with coffee beans embedded in it, and finally a bar of fine milk chocolate refined with gingerbread crumbs and cinnamon.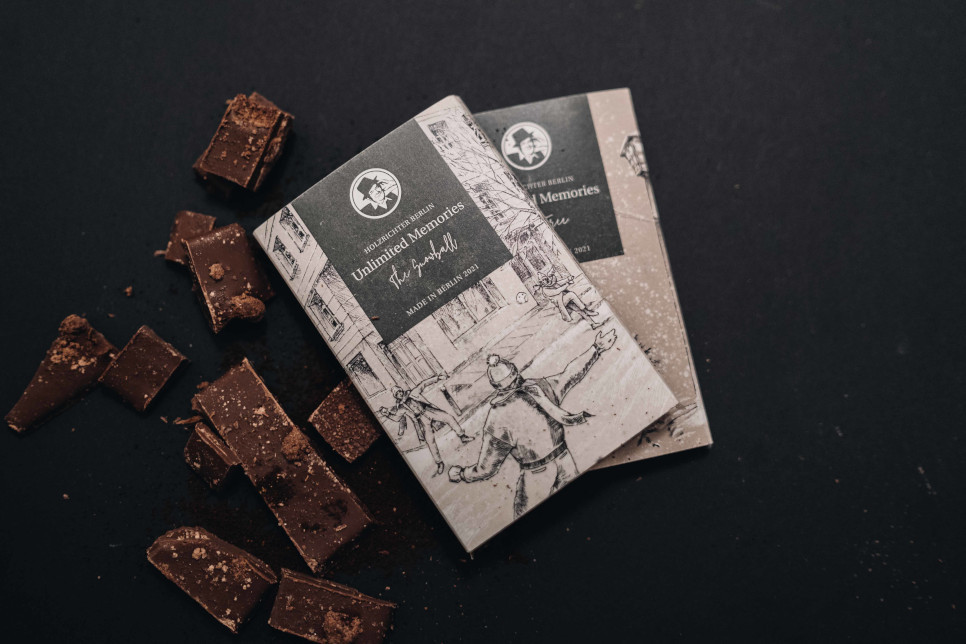 You will find one of these three bars in your Christmas order with HOLZRICHTER Berlin. They are special compositions by Confiserie Walter, and that means perfectly tempered chocolate has been run into the moulds under expert supervision, while the special flavours to refine the taste have been added by hand to the soft mass. Here you can taste the traditional craft that has been developed and refined for over a century! The chocolate melts delicately in the mouth, unfolding its intense aroma. But then, when the familiar nuances of the cocoa fade away, your palate senses the unexpected facets of this chocolate product. You then taste the Christmas spices and the strong note of the roasted coffee beans, ingredients with which a modern generation of chocolatiers has reinterpreted their craft. Just as Hugo E. Walter boldly experimented with ginger a hundred years ago, new taste creations continue to emerge even today.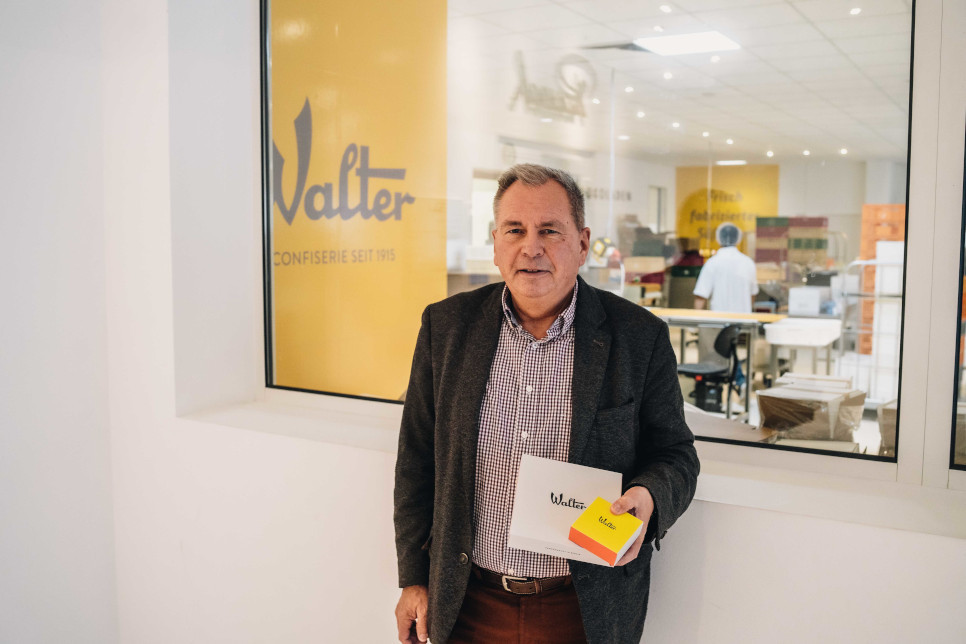 Two impulses are crucial here: an open ear and an open mind. On the one hand, it is important to follow trends in the market attentively and to adapt to the needs of your clientele. On the other hand, it's always good to experiment freely with a range of exquisite ingredients. All the chocolatiers at Walter enjoy this freedom, and thus tradition and modernity are brought into harmony with the combined creative energy of an entire confectionery.
Memories
Hugo E. Walter left behind not only a chocolate production business, but a very specific taste. His old recipe book still serves as the basis for many different chocolates and candies as well as the popular "dominoes". Their taste does not just linger on the palate for a moment, but seeks its long-term place in your memory. Remember, for example, that candy on the pillow of the small hotel in Charlottenburg? Or grandma's favourite dark chocolate, which we didn't like as a child, but which is now a must with every cup of espresso.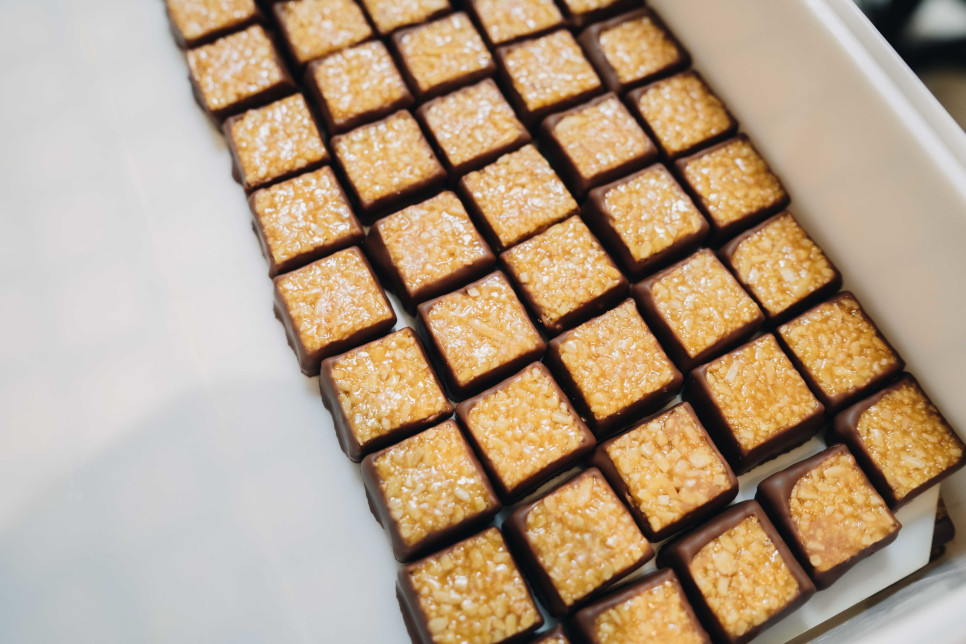 Or the chocolate dominoes that you used to put on the windowsill together with your wish list and that you still send to your father every year on St. Nicholas Day. We carry these memories from the past with us into the present, and to help preserve them we refresh them from time to time with a little piece of chocolate. This is all due to a company that has been conscientiously practising its craft for years to cater for these moments in our everyday lives. So perhaps in reality it is these memories that unite tradition and modernity.
*from a purchase value of 100€ (while stocks last)