Leather care instructions: this is how a leather bag becomes an heirloom!
29.06.2018
"Leather grease", "leather oil", "leather conditioner" – the sheer number of different leather care products can lead to desperation. "Which product should I use? " Whether it's a weekender travel bag, a briefcase or a shoulder bag – one usually gives careful consideration to buying a real leather bag, therefore using the wrong kind of care product is not an option. Give your leather goods regular attention to enhance their durability, improve their appearance and help them develop an impressive patina. To ensure that you will enjoy your HOLZRICHTER bag for many years to come, we have put together some tips.
This is how a leather bag turns into an heirloom.
Unless otherwise stated, HOLZRICHTER leather is an open-pore natural leather with an almost unsealed surface texture. This allows the exceptionally multifaceted structure and splendid colour characteristics of the material to show through, at the same time leaving it prone to the influence of the elements and environmental factors. A regular application of the HOLZRICHTER Leather Care provides perfect protection against excessive moisture and dirt. Leather grease is water-repellent, replenishes brittle leather and restores its softness and suppleness. It is recommended as a treatment before first use and in regular intervals thereafter. Does the leather feel dry or even brittle? This means it's time for an application of the HOLZRICHTER Leather Care (which is chemical-free)! HOLZRICHTER Leather Care!
First Steps.
Natural leather without additional colour applications reflects the animal's life and can be marked by scars, insect bites, small scratches, wrinkles or abrasions. A wax cover will not only offer better protection against the elements and environmental factors, it will also create an even, silky-matte look. That is why we recommend using it for new products before the first use.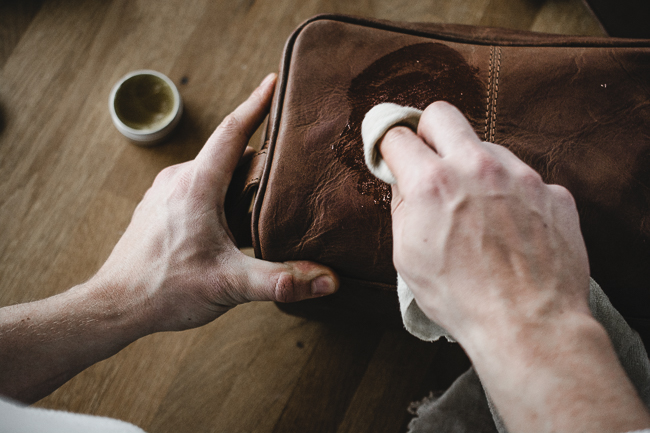 Applying leather care: this is how it's done:
1. Clean all leather and remove dirt and dust if necessary using a soft cotton cloth or a stiff brush before applying leather conditioner.
2. Rub a small amount of the leather conditioner into the dry leather using a different, clean cotton cloth or an application brush. If possible, test the application on a hidden area first – this allows you to see how the leather reacts to the care product and how strongly the colour and feel will change.
3. Remove surplus grease after a short wait – again, using a cotton cloth.
4. Using a leather brush will ensure that the grease is spread evenly and absorbed by the leather as it warms.
5. Please note that the leather may darken in places following the application. A soft, silky-matte shimmer will appear on the bag.
Congratulations! Your HOLZRICHTER bag is now well prepared for your next excursion.
Our tip: experience has shown that proprietary off-the-shelf waterproofing sprays can also be used. We recommend using waterproofing or conditioning sprays and/or conditioning products in addition to the HOLZRICHTER Lederfett conditioner to provide protection against moisture. Look for colourless products. Always observe the manufacturer's instructions for the care products.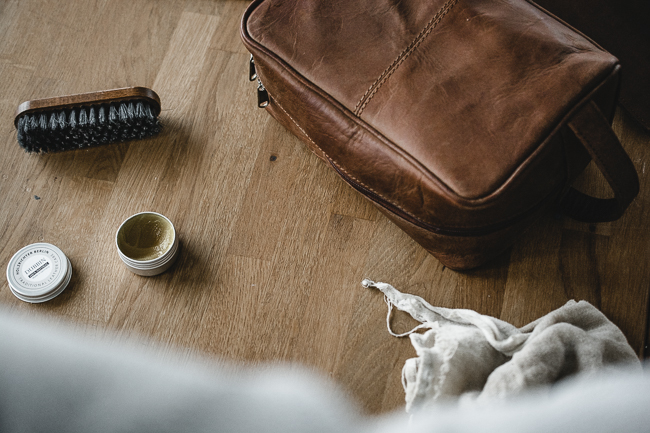 What to avoid:
Avoid exposing leather to wet conditions. Leather is a natural material and never completely waterproof. Particularly high-quality (open-pore) natural leather lacks a protective layer (e.g. paint). Whereas water will drip off treated leather, it will be absorbed by natural leather. Water-repellent waterproofing sprays generally provide the best protection against moisture.
Always try out care products on a hidden area before using. Oils, greases and other substances will alter the look and feel of your bag significantly.
If your bag does become wet, do not let it dry near a radiator or similar heat source, as this will quickly lead to drying out.
Avoid exposing your bag to direct sunlight to prevent the colour from changing or fading.
Our tip: store the item in a cotton bag to protect it against damage form dust or moisture. All HOLZRICHTER products with a value of more than € 50 come with a dust bag.
Repairs?
A well-made leather bag is definitely one of the most hard-wearing and long-lived accessories in your wardrobe. Nevertheless, there is no guarantee that thick leather, strong seams and rivets will ensure that it stays unscathed for its whole lifetime. Frequent travel, in particular, can harm seams, making them show signs of "old age" after just a few years. This is when a really good leather bag comes into its own! A straightforward design makes repairing a bag an easy exercise for a qualified bag maker or tailor trained in his craft. Even damaged zippers can be replaced easily. In some cases, HOLZRICHTER also offers a repair service. Talk to our concierge at concierge@holzrichter-berlin.com.
Still hunting for that possible heirloom made of leather? Follow this link to see the HOLZRICHTER leather bag collection (>>)