Travel bags on the trail. A day with advertiser Michael Kittel in Kreuzberg
11.06.2021
Since the company was founded, the leather weekender travel bag has been considered one of the most manufactured items in the collection, making it a favorite companion of frequent travelers worldwide. But where do these journeys lead and who are the people who take them together with our bags? As friends of HOLZRICHTER, we accompany other entrepreneurs, founders and creatives on their personal mission and document exciting paths of individual specimens of our collection. This time: Visiting advertiser Michael Kittel, founder of Berlin-based Kittel Creative Studio.
1. Hello Michael. Thanks for taking the time to talk to us. Could you briefly tell us who you are and what you do?
I'm Michael Kittel, 35, live in Berlin and am Creative Director of Kittel and Agency XY. Kittel is an advertising agency focusing on brand strategy, campaign development and branding. Agentur XY is a hybrid of creative agency and film production, so we completely implement film and photo campaigns from the idea to the finished advertising material.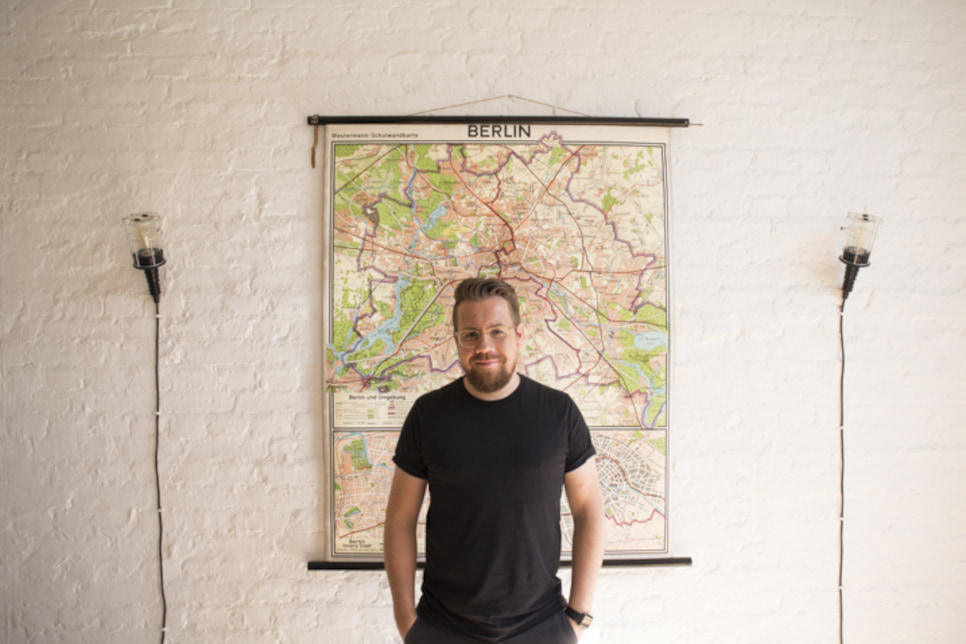 2. You have lived in two creative metropolises: New York and Berlin. What do you think distinguishes the two cities? What can both Berlin learn from New York and New York learn from Berlin?
New York has an incredible energy on the streets. I'm always fascinated by the many people from different backgrounds who come together in Manhattan. But also the lively gastro scene, the architecture and the cultural scene. Everything is quite unique for me. The heart of this city simply beats faster. You also walk faster in the streets than in this country. It literally drives you on. You want to start something new right away. In contrast, Berlin seems almost village-like to me. But it's also more accessible for new ideas and especially for founders like me. Not least because Berlin is (still) affordable. For founders who would like to have a nice office even without investors, this is an argument that should not be neglected. Unfortunately, New York largely lacks that. Berlin is experimental. You see a lot of things here that don't really make sense – but that's what makes the city special. And Berlin is still visibly changing every year. You get the feeling that you're experiencing change firsthand. But Berlin also seems very aggressive – especially on the streets. That's annoying and no one needs that. I think that fewer cars would do the city good. Manhattan, of all places, is becoming more and more bike-friendly. A few fewer car lanes and more space for bicycles and thus less aggression would also be good for Berlin. New York could take a leaf out of Berlin's book and give itself a more modern working climate. The city never sleeps, especially in its offices. It's draining, unhealthy, and doesn't bring any real benefits, especially in the creative industry.
3. What motivated you to start your own agency?
I already had my own small business when I was 16. I always kind of liked self-employment. But I wanted to learn my trade properly first, so I did that for a few years at top agencies like Jung von Matt or JWT New York. In 2014, I wanted to change more professionally and found the biggest challenge for me in self-employment. I had already learned from projects at agencies that when I'm really scared or have the greatest respect for something, that's when I really give it my all and get better. The idea of starting my own agency scared me. So it was the next logical step for me. Advertising agency Kittel Interieur in Berlin Kreuzberg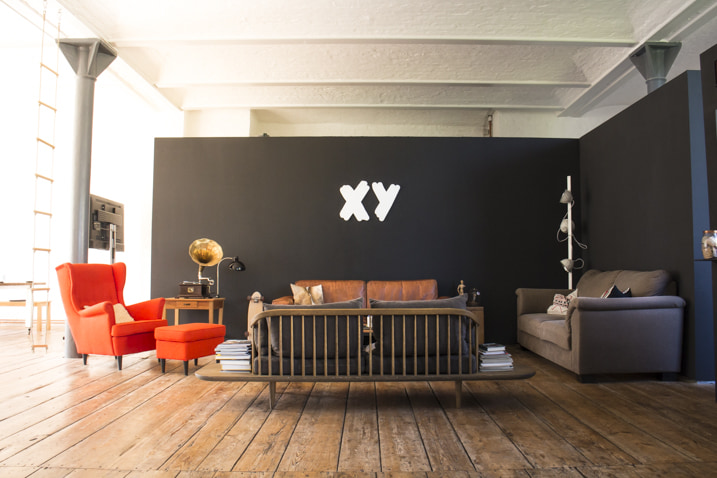 4. What do your team and your daily work routine look like?
I'm part of a really well-functioning core team at our two agencies. This mainly includes creatives and producers. And a large network of freelancers from all areas that we use on a project-specific basis. Every day looks different. Because every project is different. But basically we try to divide our time wisely, for example by limiting meetings and calls to 15 minutes. They simply eat up too much valuable time. Even when we're brainstorming ideas, a time limit usually helps to build up a bit of pressure and get the ideas flowing. We are also on the road a lot. To clients, partners and shoots.
5. What has been your most exciting project so far?
Phew, that's a tough one. For sure, big campaigns like for PUMA and MACY*s or campaigns with celebrities were exciting to implement. But I think my first project with my own agency was even more exciting. Because everything was new. The team, the client (REVIEW) and the completely different pressure. Today, the most exciting project is always the next project.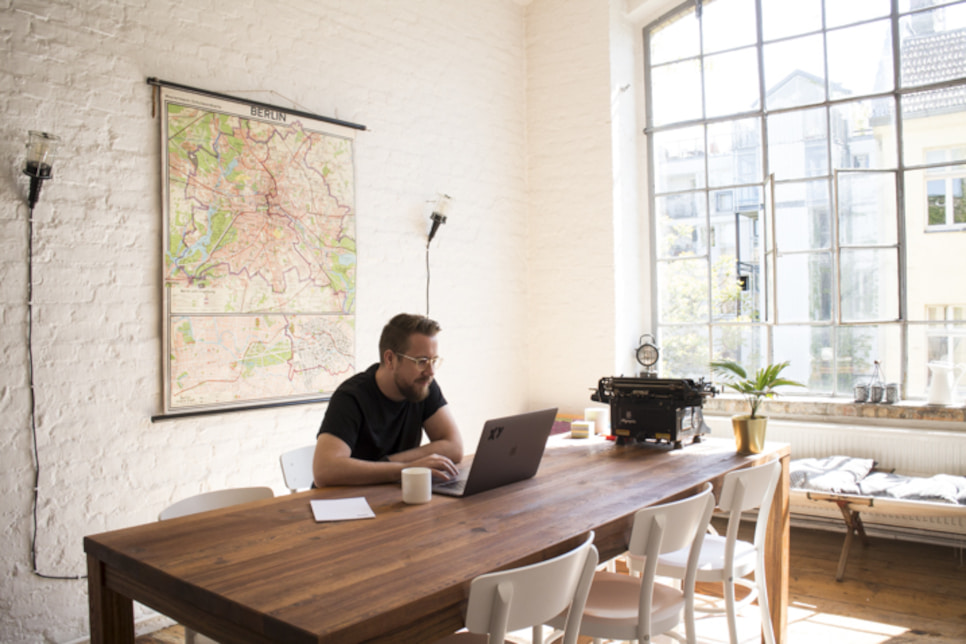 6. What excites you about the advertising industry? And what challenges you?
That again is simple: That every project is completely different. Every client comes to us with a different challenge, a different product, a completely different world. As a result, there's really never a dull moment. The challenge is that we always start from scratch. Of course we are building up an agency portfolio that shows what we have done and can do. But we don't copy ourselves. We always start every project with a blank sheet of paper.
7. Which keypieces could you not do without in your everyday life?
I never have much with me when I'm out and about in everyday life. My dream would be to always be on the go with empty pockets. For the job, I could probably do without my smartphone the least. I usually work on the MacBook in the office, with a second large monitor and the iPhone in front of me. I would also describe our coffee machine as indispensable. Vacation in the office
8. Your work takes you on the road a lot. Where and on which projects has your agency been working?
It always sounds like a vacation when I say this – we've been to Cuba, India, the Dominican Republic, the Canary Islands, Transylvania, and so on. That's always for film shoots and photo shoots. Usually, though, the tight schedule doesn't allow for much free movement on these trips. Our clients usually come from the fashion, lifestyle, sports, travel, finance and automotive sectors. Our filming locations are based on the ideas we develop for them. However, we also implement a lot of things in Germany.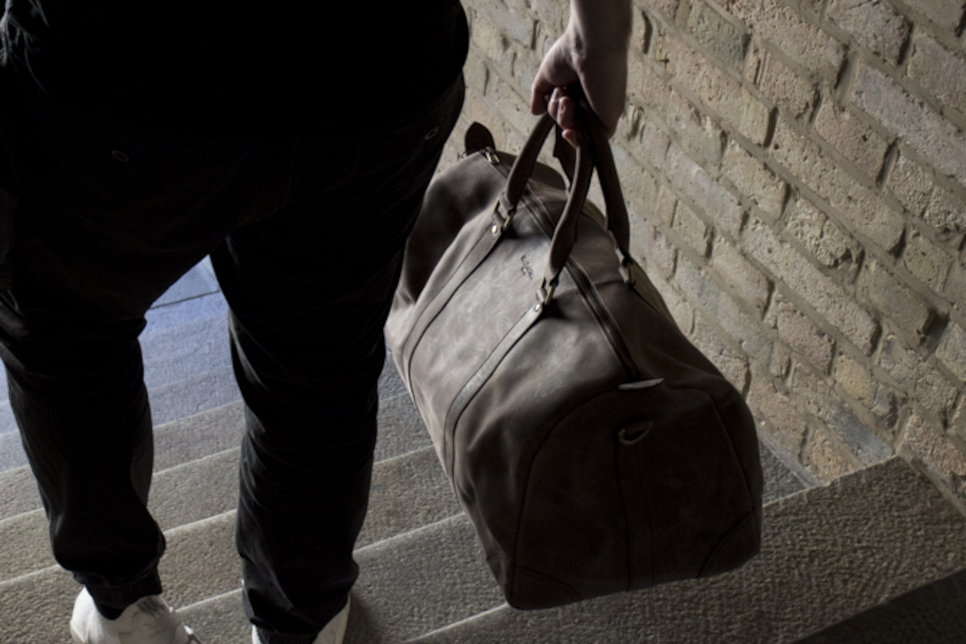 9. To which country would you travel again privately?
I found India impressive. I would like to see that country again with a lot of time on my hands.
10. Speaking of traveling – you own a Mercedes 300 SL classic car. What destinations has your Mercedes taken you to and why a 300 SL of all things?
I kind of grew up with the car. Jonathan Hart had the car, Axel Foley had the car, and I wanted the car. I never really asked myself the question. It's just my car. In about 6 weeks, the SL will be my wedding car at Tegernsee. That's the most beautiful destination so far.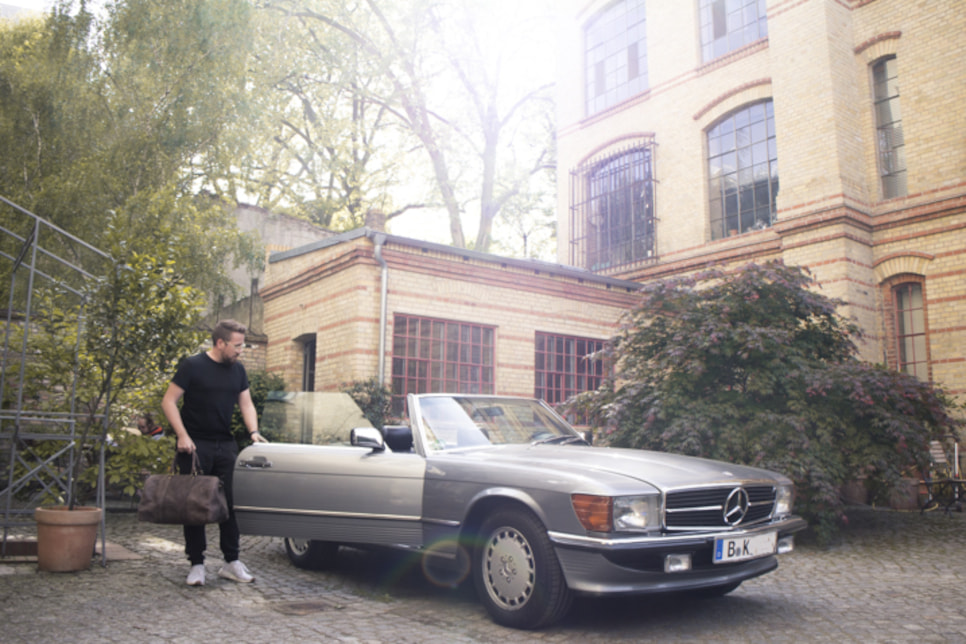 11. What characterizes good luggage for you?
It has to be reliable. I don't own many things – but I like things that I can own for a long time. And even though I take care of my luggage myself, I like patina. The scratches and sanding marks on the aluminum RIMOWA. Or the specky spots on the ever darker HOLZRICHTER Berlin Weekender.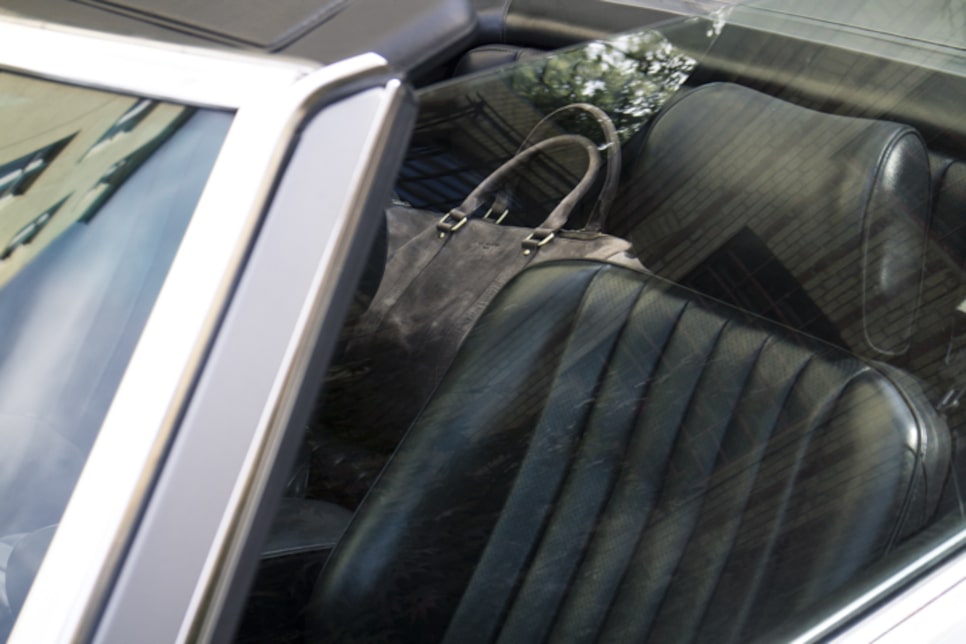 12. What can't be missing in your travel bag?
Sunscreen – I'm about the 'whitest boy alive'. Credit card – I usually shop while traveling because I never want to take the time otherwise. Cap. Cell phone charger cable. Headphones. And if there's one that matches my destination, the Louis Vuitton City Guide – I really work off those guidebooks.
13. Complete the following sentence: "A timeless classic is..."
... something that could have been created exactly the same way 40 or 50 years ago, but would have been quite innovative at the time. Something that smartly does without unnecessary bells and whistles and has implemented the rest in the best quality.
14. Why did you choose a HOLZRICHTER Berlin Weekender and on which journey will it accompany you in the future?
Because, as the name suggests, it's the perfect size for weekend trips. And I do a lot of those. It was just with me on Sardinia and will travel with me next week to my bachelor party. Where exactly that will take place, they haven't told me yet. Cross your fingers for me.