On the trail of New Work: In an interview with Berlin founder Viktoria Lindner
10.06.2021
Berlin is characterized by a fascinating scene of young individualists; they determine the image of the city and are not afraid to go their very own way. But who are these characters? In our "Made for Originals" series, we introduce Berlin originals and accompany them on their very individual journeys of everyday life. Today, we accompany Berlin founder Viktoria Lindner on her journeys of everyday life.
1. Hi Viktoria, thank you for inviting us to your beautiful apartment here in Berlin-Mitte. Could you briefly tell us who you are and what you do?
You're welcome! Glad you could make it. I'm Viktoria, 27 years old, born and raised in Berlin. My family has always lived in Pankow and that's where our house is. I went abroad relatively early on, but now I live in Berlin-Mitte again, because at 25, after studying psychology, I entered the Berlin start-up scene with a start-up I founded myself in the human resources sector.
2. You started working with startups like foodspring and HeyCar early on. What particularly fascinates you about the startup scene?
The many courageous people you meet whose focus is no longer on security and predictability, but on self-development, creativity and the implementation of their own ideas. Being able to develop freely has a very decisive meaning – even if there is no guarantee for success, a company car or a regular income and thus a secure future.
3. With your company DRIVE!MPACT, you support your clients on the exciting path of expansion and growth. What kind of companies are you assisting?
Mostly we work with high-growth startups, also called scale-ups, or else with startups that have just launched fresh. We help in a young phase to fill key positions and find talent, when the employer branding or the awareness of the companies are not yet so great. However, we also support companies when it comes to growing quickly and then following up with HR structures so that growth is not only quantitative, but also qualitative. That works, for example, by putting in place culture measures and employee development measures, so that you end up spreading out internal communication.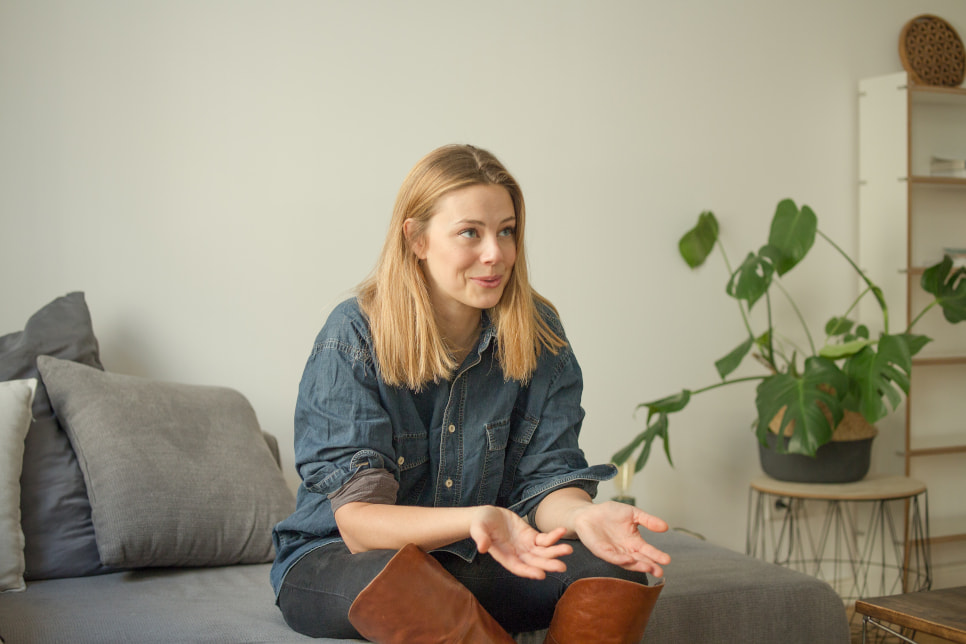 4. What challenges do you typically help overcome and how does your team go about it?
First of all, we help with the issue of finding talent, which is super difficult, especially in Berlin, because there is a real war of talent here. On the other hand, we help to set up internal human resource structures that not only help to get employees, but ultimately also to retain and develop them. Because if the person leaves after three months because they were not trained well and ultimately does not feel comfortable and has not built up a bond with the company, the costs on the company side are also enormous.
We usually start working with a new client with a very intensive preliminary discussion in which we analyze where the typical bottlenecks are and where there is a problem in the first place. Then we determine what the success of our project would mean in the first place: So what are the objectives and what does the timeline look like. Then we develop a complete roadmap. Because we are a people business and need the help of our client and ultimately the teams, we always make sure that the management is absolutely committed and that they give us time for workshops and meetings. Only then do we start guiding them through certain topics through an end-to-end project space, e.g. building an internal leadership academy or introducing a feedback cycle.
5. What is your vision for DRIVE!MPACT?
DRIVE!MPACT is to become THE sparring partner for startups as far as the entire talent space is concerned. We want to help scale-ups find talent, empower them and thereby retain them. Ultimately, we also want to contribute towards creating better companies.
6. What does your day-to-day work and that of your team look like?
We are a completely remote team. If we want to, we can collaborate because we have various coworking memberships where we also meet twice a week, but generally we are at the client's site a lot. Each consultant in my team usually has two clients that they support in parallel and then they are actually also very autonomous in satisfying that client and working on their own projects accordingly. We communicate a lot via Slack and video conferences.
7. You seem to be on the road a lot. What key pieces can't be missing in your backpack on these little journeys of everyday life?
To be able to react quickly, my laptop is of course super important for me, I always have it with me in my HOLZRICHTER sleeve. For Christmas, I gave the whole team one of your sleeves as something that connects us all and to promote culture. I wanted to give my team a small but special treat and not just the typical Christmas dinner. But back to the core question: Cell phone and headphones are always with me, too, since I work a lot in conference calls.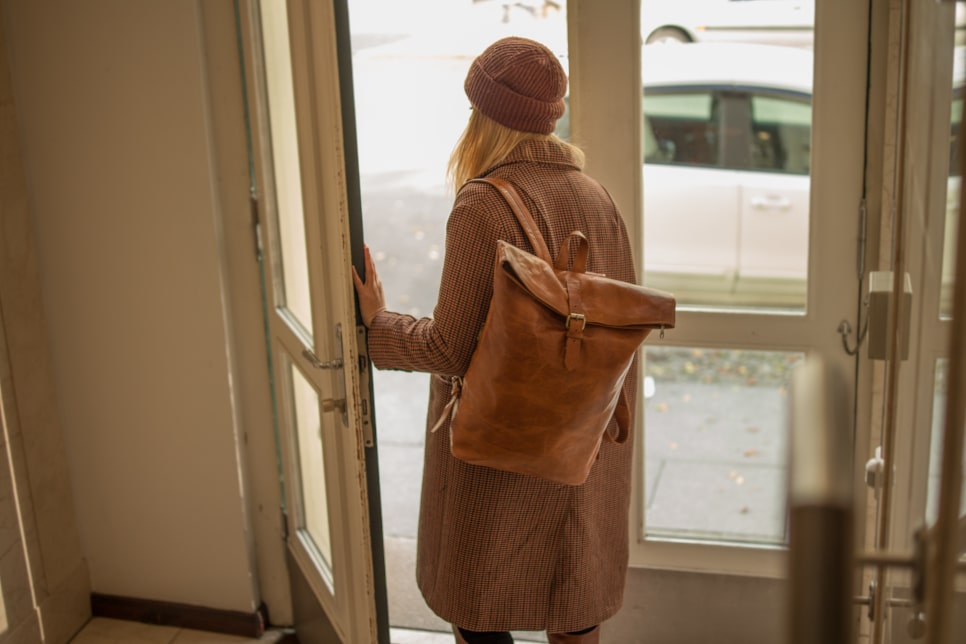 HOLZRICHTER Berlin Rucksack No 4-1 (L) cognac
8. We're on our way to Tucholskystraße to your favorite café. You yourself come from Berlin and now live in the heart of Mitte: To what extent has the city influenced you in your career?
Actually, Berlin has influenced me a lot. I think I'm a full-blooded Berliner and a slightly different Berliner at the same time. I would probably never consciously choose Berlin as a place to live if it weren't my home. Home is simply something very special, everyone can understand that. However, Berlin is not necessarily the most beautiful city for me, like Amsterdam or Barcelona, for example, but I just have this special feeling here, this absolute "I know every corner," "I know exactly how to get anywhere."
I have consciously experienced the transformation of the city and of course this has influenced me on my career path, because here you really do meet a lot of creative people who want to break out of their everyday lives, create things and are boundless, risky, ambitious and not afraid of change. Such encounters are a huge inspiration.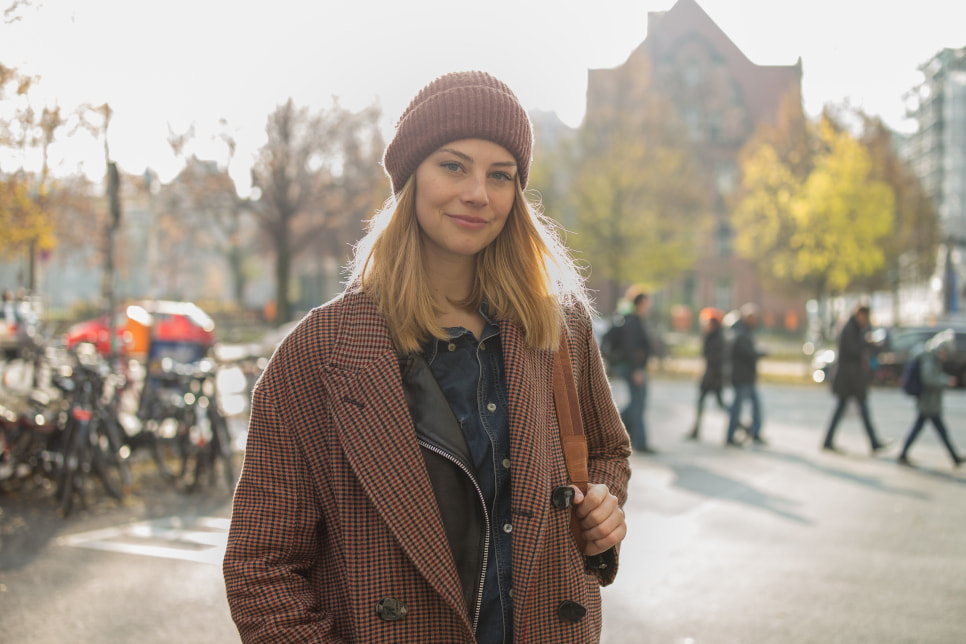 9. What influences and characteristics do you particularly appreciate about Berlin? What makes this city so unique for you?
Berlin is first of all special because of its size and that it consists of so many small towns. Whether you're in Kreuzberg or Wedding or Mitte or Prenzlauer Berg, it feels like you're in a different city every time. Each neighborhood is like its own little city. You can say, "Today I want to be this guy," or "Today I want to live out that personality trait," and accordingly you can be in the appropriate part of town. What I also love is the summer in Berlin, because people are cheerful and happy on the streets. We have a great many small open airs and just a great culture. You hear from the outside that Berliners are rough and not so open, but I see it differently. I think we are a very cosmopolitan city.
HOLZRICHTER Berlin Rucksack No 4-1 (L) cognac
10. What places do you go to when you're looking for inspiration yourself?
I like to walk along the Spree, right by the government district and all the museums. That's kind of my favorite place or my favorite walk in Berlin because it's very inspiring between the modern buildings and the older buildings. Sometimes I just quickly pack up a few things, throw on my No 1-2 shoulder bag, put on some headphones, listen to some music and drift off to just chill out a bit. I also find a lot of inspiration in nature. That's what research says, for example: Inspiration can only work if you give yourself rest. That's what it's all about for me then. It's not like I go for a walk to let ideas come up right away, but mainly to switch off – so that I then have the opportunity to show creativity again at work.
11. If you were to give our readers a little inspiration, which three books would you recommend to them?
"Principles" by Ray Dalio is a very interesting book whose principles we actually use a lot in the company as well. It has been very inspiring to me and my team. "Fierce Conversations" by Susan Scott is also very interesting: "The only bad conversation is the one you didn't have," is the key point from the book. Number three is "The Top Five Regrets of the Dying" by Bronnie Ware. This is about the five things people who are dying regret the most. A nurse who cares for dying elderly people did interviews on this and asked what people would do differently in life and wrote a very inspiring book about it.
12. When you're not advising startups, what's your favorite thing to do in your free time?
My boyfriend and I love kitesurfing. Whenever there's wind, we take advantage of it and go surfing. Recently we were in Sri Lanka – beautiful scenery and lots of wind in the sails. I also love to do yoga and go running. I'm a total jogger who also uses that to relax. Due to the fact that my parents live on the outskirts of Berlin in the countryside, as I said, I really like to go there to hang out in the garden, have barbecues, make campfires and go for walks.
HOLZRICHTER Berlin Umhängetasche No 1-2 (M) cognac
13. What do you particularly like about the HOLZRICHTER Berlin Originals collection?
Especially that it's a Berlin product. I like to support local companies and brands. Also, I am a person who really appreciates naturalistic materials. I like muted and natural colors and anything that feels haptically like nature. That's what makes HOLZRICHTER so appealing to me.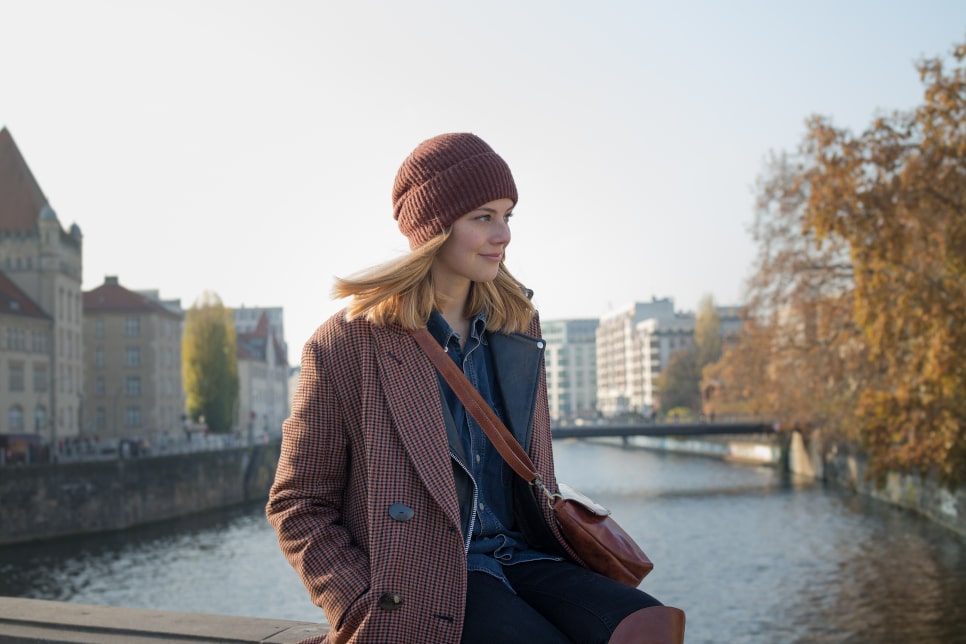 HOLZRICHTER Berlin Umhängetasche No 1-2 (M) cognac