HOLZRICHTER leather for truly one-of-a-kind pieces
27.06.2018
HOLZRICHTER leather is vegetable-tanned leather. This is a fundamental aspect of our quality principles (>>). HOLZRICHTER leather guarantees an environment-friendly process free of harmful chemicals for a clean and safe tanning method. This is what makes our leather particularly safe for humans to use as well as nature-friendly. It is also the tried and trusted HOLZRICHTER secret that makes each piece a unique work of art.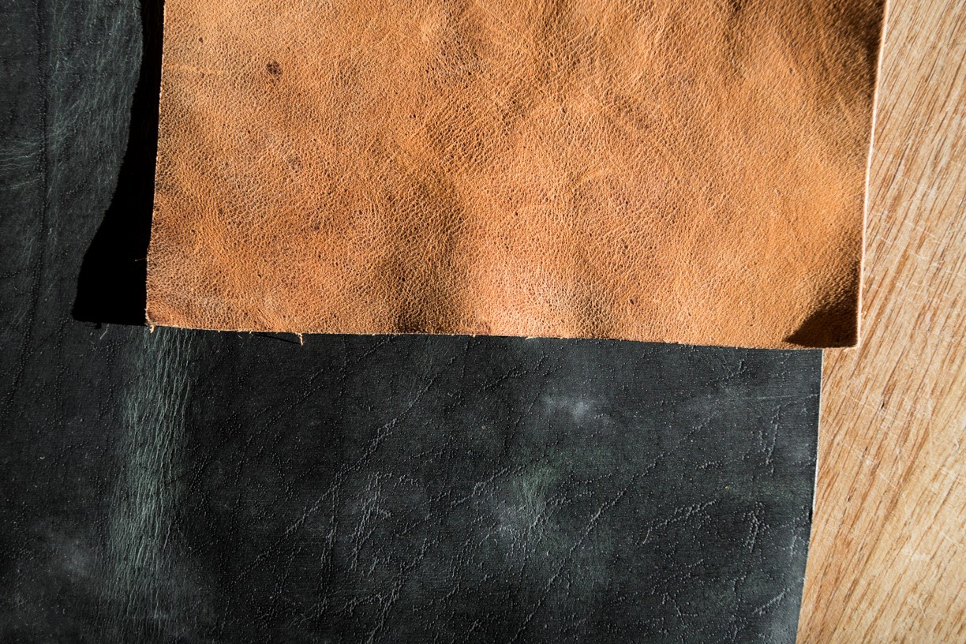 AT A GLANCE
HOLZRICHTER leather
is a natural product with distinctive, multifaceted features and deep colour characteristics.
reflects the lives of the animals and may show scars, insect bites, small scratches, wrinkles or grazes.
is produced without the use of harmful chemicals.
is thicker (firmer) initially than chrome-tanned leather.
is usually left virtually unsealed, giving it a relatively matte surface finish to begin with.
will develop a deep patina.
will darken significantly after the application of grease or oil and acquire an even silky-matte sheen.
will develop a deep patina.
can be treated with HOLZRICHTER leather grease (or similar products) to provide maximum protection against moisture damage and soiling.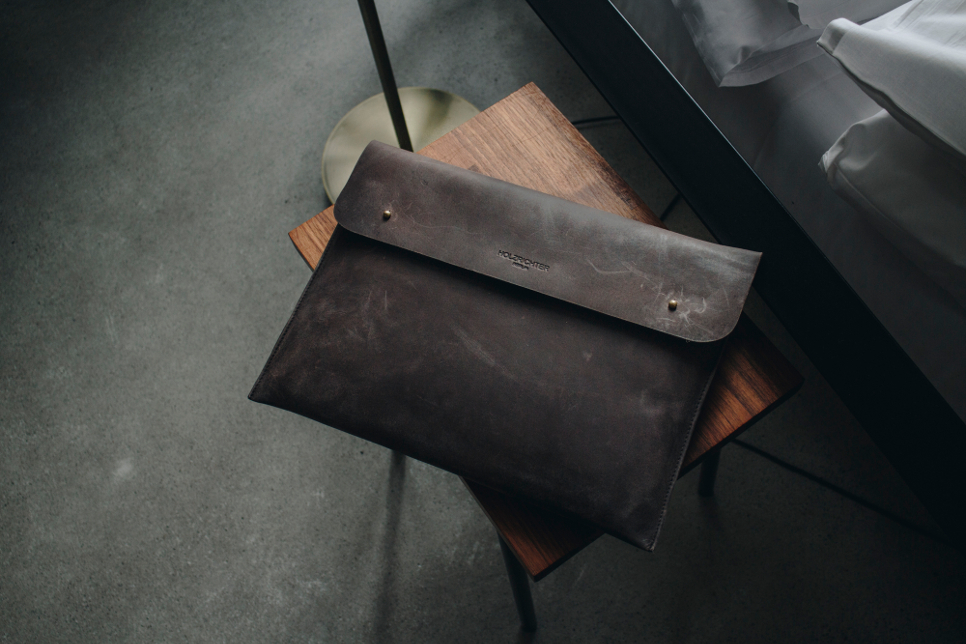 HOLZRICHTER Berlin Laptop Sleeve 13" No 3-3 schokoladenbraun
TYPES OF LEATHER
HOLZRICHTER uses only vegetable-tanned leather of the so-called "A" grade with a surface that is as intact as possible. Only buffalo, cow and goat hides are chosen:
Cow and buffalo hides are relatively thick and heavy. This type of leather is used mainly for durable travel accessories (e.g. weekender and travel bags) with a characteristic flair.
Goatskin is extremely hard-wearing and a favourite with bag makers because of its comparatively low weight. It is used mainly for essential everyday items of a more delicate design (e.g. messenger bags, briefcases, shoulder bags and satchels).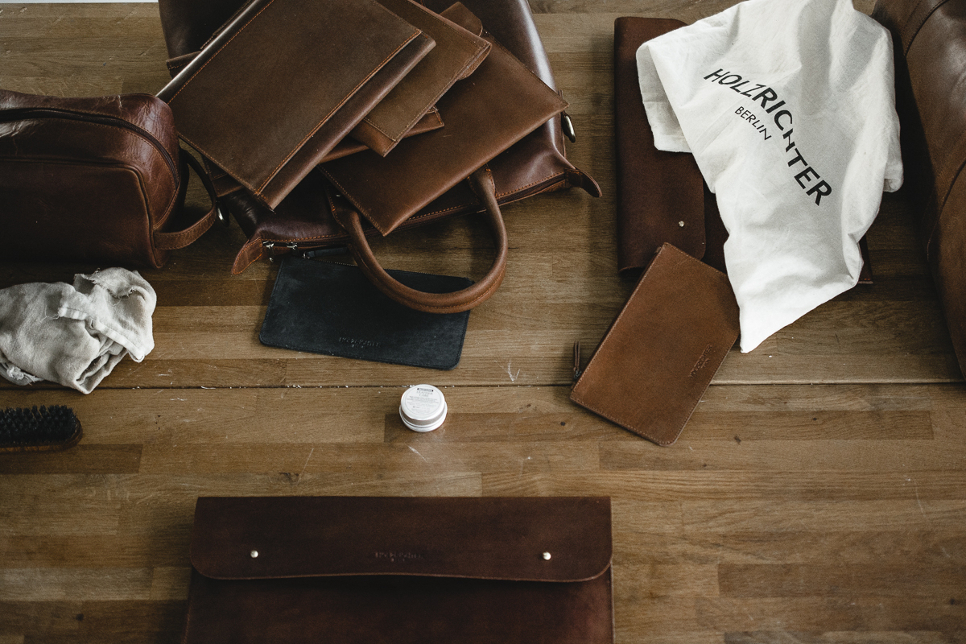 HOLZRICHTER Berlin Tablet Sleeve 9,7" No 3-1 camel
LOOK
Left almost completely "unfinished" (unless stated otherwise in the product description), our leather retains many of its natural characteristics – becoming a unique HOLZRICHTER product from day one. Natural leather bears the marks of the animal's life in the wild and displays the original structure of the hide. The vegetable tanning process and the complex interaction of a multitude of plant extracts lead to the development of natural colour variations and unique colour characteristics. Our photographers did their best to ensure that the colours were captured correctly in the pictures, but they would like to point out that your bag will always differ from the one shown.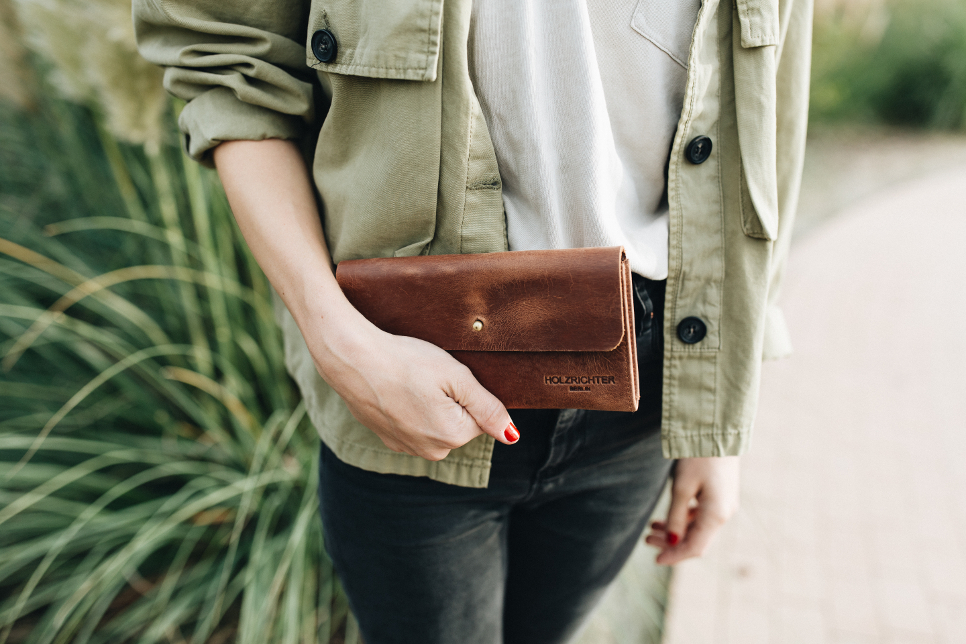 HOLZRICHTER Berlin Geldbörse No 4-1 camel
FEEL
Vegetable-tanned leather is firmer than chemically tanned products to begin with. This is a sign of quality and ensures the exceptional durability of the product. The leather will become softer and more supple with regular use. The almost open-pore surface will look matte in the beginning and may have a dry feel. For optimum protection against moisture and staining we recommend greasing the material with the leather care product enclosed (HOLZRICHTER Leather care) before the first trip. The application will create a silky-matte shimmer, the leather will darken and the colours will become more intense.
PATINA
Unless otherwise stated in the product description, the leather is not dressed or finished (embossed or coated) after tanning. This allows an attractive, characterful patina to develop on our bags – a signature HOLZRICHTER feature. Every touch paints a unique picture on the almost open-pore material, quickly giving each bag its unique and distinctive character. The surface to begin with is relatively matte. A silky-matte shimmer then develops through use, resulting in a deep, glowing patina. The leather will darken significantly! You can increase this effect and speed up the process by using our leather dressing, the HOLZRICHTER Leather care.(>>)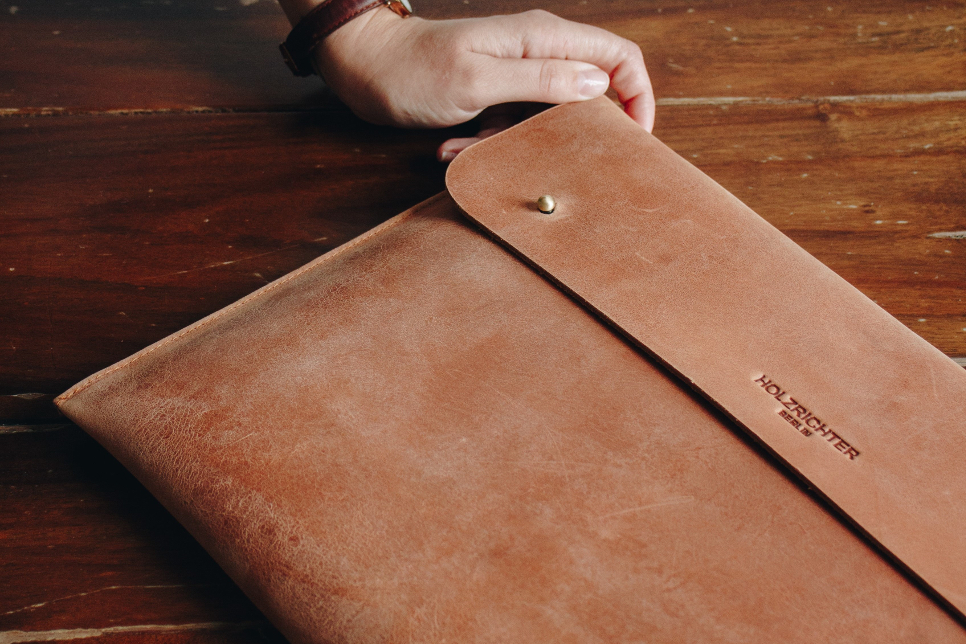 HOLZRICHTER Berlin Laptop Sleeve 13" No 3-3 camel
CARE
Look after your leather. Regular care will enhance its durability and ensure that it will continue to look great. Follow the link tolearn how to do it. (>>)