Note: Natural leather varies in colour, making any illustration a mere snapshot of an individual piece.
Belt Bag No 1-1 (M)
Black
79,00 €
includes 12,61 € (19.0% VAT)
Easy to carry belt bag for valuables, ideal for combining with other travel bags. The main pocket has a premium metal zipper and has an excellent grip thanks to a leather detail. The individually adjustable belt perfectly adapts to the desired size, whether worn as an urban crossbody bag or classic belt pouch. With enough space for sunglasses, keys, passport etc., this handmade accessory complements a sophisticated sporty, as well as elegant travelling wardrobe.
DETAILS
One round frontal pocket
Safe back pocket for cash or credit cards
High quality zipper by YKK
Subtle interior color in basalt grey
Easily shut with a click closure
QUALITY
Gentle processes ensure a long life, a sensual woody fragrance and a magnificent colour profile. Our Premium leather is tanned with natural plant extracts (vegetable) and is created without the use of harmful chemicals, as has been done for centuries. Learn more. (>>)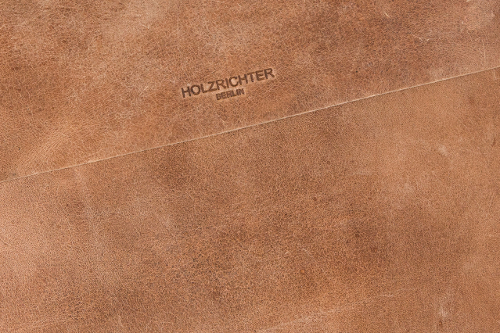 CONCEPT ORIGINALS
Only few of us know: A majority of leather is sorted out in the production of premium leather products because of natural features. But these scars, spots and scratches are also features that make the material so unique. For the ORIGINAL collection, we will redefine aesthetics and process one of the most high-quality and full of character leather types: real Full Grain.
LEATHER CARE
HOLZRICHTER Leather develops a distinctive patina, the most honest quality feature of an excellent leather bag. To ensure this we do not use synthetic covers (finishes). The right care products provide real protection against moisture and dirt. Learn more. (>>)
MISSION
Designed according to the leather icons of the Jet Age era (1940-1970). Handmade with the comfort and class you would expect from a bag maker. The HOLZRICHTER collection follows a classic line for the production of timeless, modern accessories. Learn more. (>>)
Article details
| | |
| --- | --- |
| Category / Type | Belt Bag |
| Code | HR-BB-1-1_b |
| Collection | HOLZRICHTER Berlin Black Series |
| Dimensions | 10cm (H) x 24cm (W) x 6cm (D) |
| Type of leather | Goathide, vegetable tanned |
| Lining | 100 % Cotton, basalt grey |
Delivery & shipping
| | | |
| --- | --- | --- |
| DHL Parcel International | Delivery until: 24.06.2021 17:00 Uhr | 9,00 € |
| DHL Parcel GER | Delivery until: 23.06.2021 17:00 Uhr | 0,00 € |
| DPD Express GER (until 10 a.m.) | Delivery until: 22.06.2021 10:00 Uhr | 18,00 € |
| DPD Express GER (until 6 p.m.) | Delivery until: 22.06.2021 18:00 Uhr | 9,00 € |
Please choose the corresponding shipping type in the cart later.
Shipping information...