Note: Natural leather varies in colour, making any illustration a mere snapshot of an individual piece.
Weekender No 13-1 (L)
Anthracite-Black
249,00 €
includes 39,76 € (19.0% VAT)
Minimalistic design, maximum comfort. Impeccably crafted from finest goat leather, the holdall No 13 is a cosmopolitan way to carry your kit. It's detailed with an outside pocket giving you easy-access to your travel documents. Take it on weekend trips, or if backpacks aren't your thing, use it to hold your change of clothes for the gym.
DETAILS
Interior color in basalt grey
Sturdy inner lining made from 100% cotton
Including a removable and adjustable shoulder strap with leather pad
3 inner compartments secure your valuables but remain easy access
Massive metal YKK two-way zipper
Further locking possible by extra padlock (not within the scope of delivery)
Reinforced bottom with metal base to guarantee stability as well as moisture and dirt resistance
Decoration is not included
DIMENSIONS
31cm (H) x 56cm (B) x 26cm (T)
Weight: 1,7 Kg
QUALITY
HOLZRICHTER leather is strong, shows a deep and complex colour profile and smells like good leather is supposed to. Making first-class leather with natural ingredients is a sophisticated and time-consuming process. The production of our leather guarantees an eco-friendly process which does not use harmful chemicals such as Chrome, PCP and Azo dyes. For sure, this is a much cleaner, safer way of tanning, making it healthier for people and planet. And it ist he well-tried secret of HOLZRICHTER leaving each piece as the unique expression of natural art.
100% ORIGINAL
Natural processes lead to variations in the colour of the leather, allowing it to retain its original look. Doing without industrial finishing processes such as colour applications and embossing gives each piece its very own unique characteristics and a splendid patina, the most honest quality mark of a first-rate leather bag. Read more about HOLZRICHTER leather. (>>)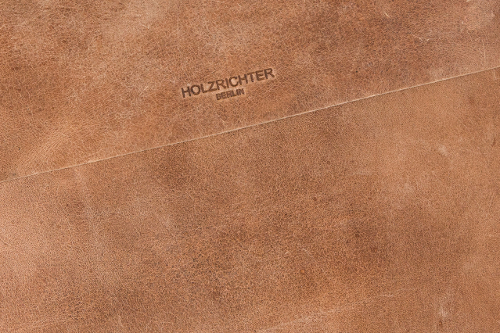 #HOLZRICHTERBERLIN
Note: The pictures shown above (#holzrichterberlin) were curated by the social networking service Instagram. The pictures may also show other products and serve illustration purposes only.
| | |
| --- | --- |
| Category / Type | Travel bag |
| Code | HR-HOL-13-1_b |
| Collection | HOLZRICHTER Berlin Classics |
| Dimensions | 31cm (H) x 56cm (W) x 26cm (D) |
| Type of leather | Goathide, vegetable tanned |
| Lining | 100% Cotton |
| Extras | Shoulderstrap |
Delivery & shipping:
| | | |
| --- | --- | --- |
| DHL Parcel International | Delivery until: 29.08.2019 17:00 Uhr | 0,00 € |
| DHL Parcel GER | Delivery until: 28.08.2019 17:00 Uhr | 0,00 € |
| DHL Parcel GER (Packstation) | Delivery until: 28.08.2019 17:00 Uhr | 0,00 € |
| DPD Express GER (until 10 a.m.) | Delivery until: 27.08.2019 10:00 Uhr | 18,00 € |
| DPD Express GER (until 6 p.m.) | Delivery until: 27.08.2019 18:00 Uhr | 9,00 € |
Please choose the corresponding shipping type in the cart later.
Shipping information...