Tote (L)
Anthracite-Black
199,00 €
includes 31,77 € (19.0% VAT)
Made for the trip of the day. If you require a practical allrounder to run daily errands or for the short trip to the office, this carrier bag made from precious buffalo leather is the stylistically confident choice to make – suitable for every occasion.
DETAILS
Interior color in basalt grey
Sturdy inner lining made from 100% cotton
Including a removable and adjustable shoulder strap with leather pad
3 inner compartments secure your valuables but remain easy access
Massive metal YKK two-way zipper
Reinforced bottom with metal base to guarantee stability as well as moisture and dirt resistance
Decoration is not included
DIMENSIONS
39cm (H) x 42cm (W) x 11cm (D)
Weight: 1,2 Kg
QUALITY
HOLZRICHTER leather is strong, shows a deep and complex colour profile and smells like leather is supposed to. Our production guarantees an eco-friendly process which does not use harmful chemicals such as Chrome, PCP and Azo dyes. Making first-class leather with natural ingredients (about 10% of the leathers worldwide) is a sophisticated and time-consuming process taking up to 6 weeks.
PATINA
For sure, our tanning process is a much safer and cleaner way, making it healthier for people and planet; and it is the well-tried secret leaving the material as the unique expression of natural art. Each piece ages beautifully like leather is supposed to.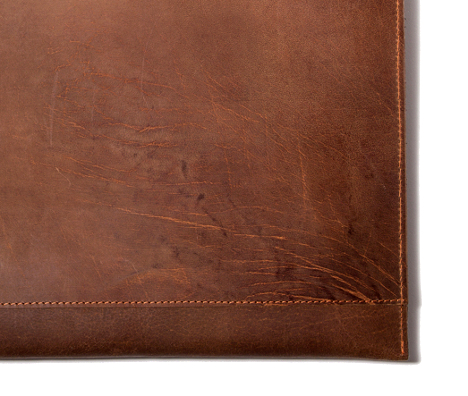 #HOLZRICHTERBERLIN
| | |
| --- | --- |
| Category / Type | Tote |
| Code | HR-TO-10-1 |
| Leather type | Buffalo hide |
Delivery & shipping:
| | | |
| --- | --- | --- |
| DHL | Delivery until: 28.06.2018 17:00 Uhr | 0,00 € |
Please choose the corresponding shipping type in the cart later.
Shipping information...
Leather care product made from the highest quality all-natural ingredients. This product does not contain petroleum distillates, paraffin, or chemical preservatives. HOLZRICHTER dubbin is effective, environmentally friendly and proudly…
9,90 €
All small stuff at the right place. In the valuable leather pouch is enough space for documents, writing utensils, jewellery or cosmetics and also functions as a wallet, document case…
39,00 €