Note: Natural leather varies in colour, making any illustration a mere snapshot of an individual piece.
Tote No 12-2 (M)
Nutbrown
Out of stock
includes 31,77 € (19.0% VAT)
Made for the trip of the day. If you require a practical allrounder to run daily errands or for the short trip to the office, this carrier bag made from precious buffalo leather is the stylistically confident choice to make – suitable for every occasion.
DETAILS
Interior color in basalt grey
Sturdy inner lining made from 100% cotton
Including a removable and adjustable shoulder strap with leather pad
3 inner compartments secure your valuables but remain easy access
Massive metal YKK two-way zipper
Reinforced bottom with metal base to guarantee stability as well as moisture and dirt resistance
Decoration is not included
QUALITY
Gentle processes ensure a long life, a sensual woody fragrance and a magnificent colour profile. Our Premium leather is tanned with natural plant extracts (vegetable) and is created without the use of harmful chemicals, as has been done for centuries. Learn more. (>>)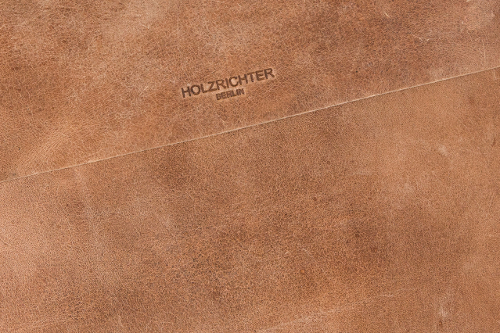 CARE
HOLZRICHTER Leather develops a distinctive patina, the most honest quality feature of an excellent leather bag. To ensure this we do not use synthetic covers (finishes). The right care products provide real protection against moisture and dirt. Learn more. (>>)
MISSION
Designed according to the leather icons of the Jet Age era (1940-1970). Handmade with the comfort and class you would expect from a bag maker. The HOLZRICHTER collection follows a classic line for the production of timeless, modern accessories. Learn more. (>>)
Article details
| | |
| --- | --- |
| Category / Type | Tote |
| Code | HR-TO-12-2 |
| Collection | HOLZRICHTER Berlin Classics |
| Dimensions | 36cm (H) x 41cm (W) x 13cm (D) |
| Type of leather | Cowhide, vegetable tanned |
| Lining | 100% Cotton |
| Extras | Shoulderstrap |
Delivery & shipping
| | | |
| --- | --- | --- |
| DHL Parcel International | Delivery until: 08.08.2020 17:00 Uhr | 0,00 € |
| DHL Parcel GER | Delivery until: 07.08.2020 17:00 Uhr | 0,00 € |
| DPD Express GER (until 10 a.m.) | Delivery until: 06.08.2020 10:00 Uhr | 18,00 € |
| DPD Express GER (until 6 p.m.) | Delivery until: 06.08.2020 18:00 Uhr | 9,00 € |
Please choose the corresponding shipping type in the cart later.
Shipping information...
Leather care product made from the highest quality all-natural ingredients. This product does not contain petroleum distillates, paraffin, or chemical preservatives. HOLZRICHTER dubbin is effective, environmentally friendly and proudly...
9,90 €
All small stuff at the right place. In the valuable leather pouch is enough space for documents, writing utensils, jewellery or cosmetics and also functions as a wallet, document case...
39,00 €