Messenger Bag (S)
Anthracite-Black
129,00 €
includes 20,60 € (19.0% VAT)
Our handmade flap bag offers enough space for documents and your tablet. It's the perfect companion for the office,university or your free time.
DETAILS
Perfect shape for various documents in DIN A4
Rapid access to small objects and valuables through a inner compartment which is closable by zipper
Exterior compartment in the back for your tablet, documents or magazines
Massive metal YKK two-way zipper
Interior color in basalt grey
Sturdy inner lining made from 100% cotton
Adjustable shoulder strap for an high wearing comfort
Decoration is not included
DIMENSIONS
26cm (H) x 32,5cm (B) x 8cm (T)
Weight: 0,8 Kg
QUALITY
HOLZRICHTER leather is strong, shows a deep and complex colour profile and smells like good leather is supposed to. Making first-class leather with natural ingredients is a sophisticated and time-consuming process. The production of our leather guarantees an eco-friendly process which does not use harmful chemicals such as Chrome, PCP and Azo dyes. For sure, this is a much cleaner, safer way of tanning, making it healthier for people and planet. And it ist he well-tried secret of HOLZRICHTER leaving each piece as the unique expression of natural art.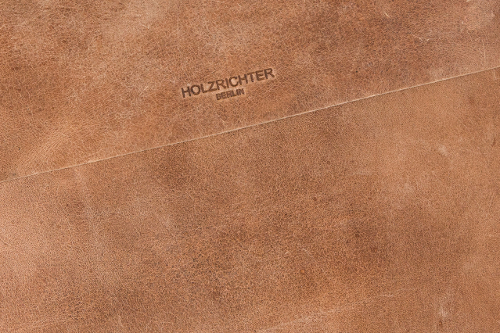 #HOLZRICHTERBERLIN
| | |
| --- | --- |
| Category / Type | Satchel |
| Code | HR-SA-3-1_b |
| Leather type | Goat hide |
Delivery & shipping:
| | | |
| --- | --- | --- |
| DHL | Delivery until: 25.06.2018 17:00 Uhr | 0,00 € |
Please choose the corresponding shipping type in the cart later.
Shipping information...
Leather care product made from the highest quality all-natural ingredients. This product does not contain petroleum distillates, paraffin, or chemical preservatives. HOLZRICHTER dubbin is effective, environmentally friendly and proudly…
9,90 €
A slim, folded wallet that not only looks great but will last and last. The wallet has a clean cut and minimal format that fits your pockets easily. DETAILS Two…
39,00 €